Temple Emanuel of Tempe Religious School
"Educate a child according to their ways."
-Proverbs 22:6
Give your children the opportunity to explore their Jewish heritage through a comprehensive program designed to challenge their minds and capture their hearts and souls. Jewish children in grades Pre-Kindergarten through 12th-grade study Hebrew, Jewish traditions, holidays, prayer, culture, and more — all while connecting with other Jewish children and building friendships that will last a lifetime.
TETY Event - TETY Game Event
JOIN US FOR A TETY GAME EVENT!
Sunday, March 26, 2023 from 11:45 am - 12:45 pm
Come hang out and play a variety of games! Board games, giant games, GAGA ball, and so much more. Feel free to bring your own games, too!

Heavy snacks provided. All students in grades 6 - 12 are welcome! You do not need to be a current TE Religious School student.

We are also looking for new and gently used games as donations for our lounge.
TETY & ASU Hillel Shabbat Dinner and Services
JOIN US AT ASU HILLEL SHABBAT & DINNER
Friday, March 31 from 5:30 pm- 8:00 pm
8th – 12th Graders are invited to join us for Shabbat services & dinner at ASU Hillel on Friday, March 31st at 5:30pm. This is a fabulous opportunity for our teens to experience a taste of Jewish life once they leave high school and to get to speak with current college students about their Jewish lives post-high school.
Click below to register!
Registrations can be accepted no later than March 24th at 5:00pm.
Order your Tote Bags and T-Shirts today and show your TEOT pride!
Tote Bags are $20 each, and come in
either

light blue

with black logo or black with a white logo.
Children/Youth sized T-Shirts are $18 each.
They come in
red
,
black
,
orange
and pink.
Adult sized T-Shirts are $25 each.
They come in
red
,
black
,
pink
,
green
,
and purple.
Hebrew at TEOT
The Eternal language of the Jewish people.
Hebrew is the eternal language of the Jewish people. It connects us to the past through prayer and text and carries us forward into the future. Each student at Temple Emanuel's Religious School learns Hebrew. Learning begins in Pre-Kindergarten as they discover Hebrew through their bodies, using Aleph-Bet yoga and Hebrew through Movement to associate Hebrew with actions and begin basic sound recognition. Our early learners build on these skills in Kindergarten through 2nd grade, associating the sounds of our Hebrew letters with the shapes of the letters themselves.
Our leveled Hebrew program for 3rd through 6th grades teaches students decoding, letter and vowel recognition, Hebrew reading fluency, and prayer- all at a level that is appropriate to each student's current Hebrew ability. Our students use this time to not only prepare for their b'nei mitzvah, but develop a deep understanding of what each prayer means. As a living language, Hebrew is incorporated into our sessions through phrases, individual word study, and delving into various shorashim (Hebrew root letters) and examining how these flow through the entirety of the Hebrew language.
Judaic Studies at TEOT
Explore our curriculum from Pre-K to Post-Confirmation
More information coming soon!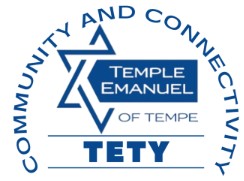 TETY (Temple Emanuel Temple Youth)
Student-run and student-driven youth program for students in grades 6-12.
CLICK HERE to learn more and hear about our upcoming events!
Tue, March 28 2023 6 Nisan 5783